Behavioural, Ecological and Socio-economic
Tools for Modelling Agricultural Policy
Ready for take-off: First BESTMAP meeting in Brussels
BESTMAP held its official kick-off meeting from 23 September to 25 September in Brussels, Belgium, where partners met for the start of the four-year research and innovation action. Twelve partner organisations from seven European countries gathered to discuss the first steps towards developing behavioural, ecological and socio-economic tools for modelling agricultural policy.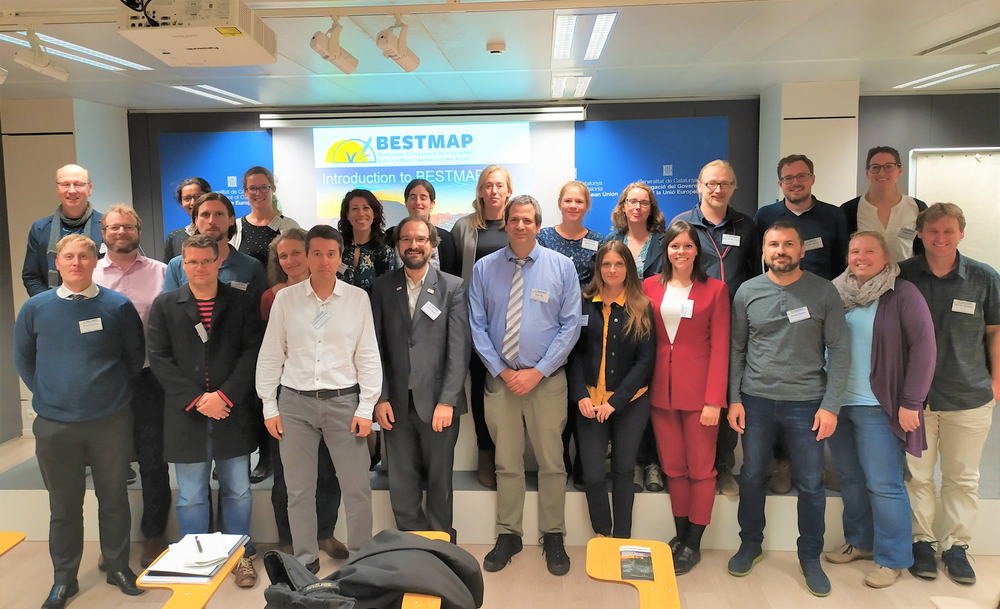 The main goals of the project are to:
develop a behavioural theoretical modelling framework to take into account complexity of farmers' decision-making;
develop, adapt and customize a suite of opensource, flexible, interoperable and customisable computer models linked to existing data e.g. LPIS/IACS and remote sensing e.g. Sentinel-2;
link economic, individual-farm agent-based, biophysical ecosystem services and biodiversity and geostatistical socio-economic models;
produce a simple-to-use dashboard to compare scenarios of Agri-Environmental Schemes adoption;
improve the effectiveness of future EU rural policies' design, monitoring and implementation.
The next four years will be significant for the improvement of the effectiveness of EU policies and the transformation of European policy design, impact assessment and monitoring.
Check out tweets from the event at @Bestmap_EU.
@Bestmap_EU conceptual framework what and how we are going to do it Coordinator Guy Ziv @UniversityLeeds explains #BESTMAPkickoff pic.twitter.com/yedVdWznq9

— BESTMAP (@Bestmap_EU) September 24, 2019