Behavioural, Ecological and Socio-economic
Tools for Modelling Agricultural Policy
BESTMAP at ECCB 2022 Conference: post-event news
The 6th European Congress of Conservation Biology titled "Biodiversity crisis in a changing world" took place between 22 and 26 September in Prague, Czech Republic. Amongst the leading experts who attended the symposium were the BESTMAP partners, Stephanie Roilo, Anna Cord (TU Dresden) and James Bullock from the UK Centre for Ecology and Hydrology. The project was presented with an insightful and informative session on the impact of the regional context on the effectiveness of Agri-Environment Measures (AEM) in protecting the habitat of farmland birds.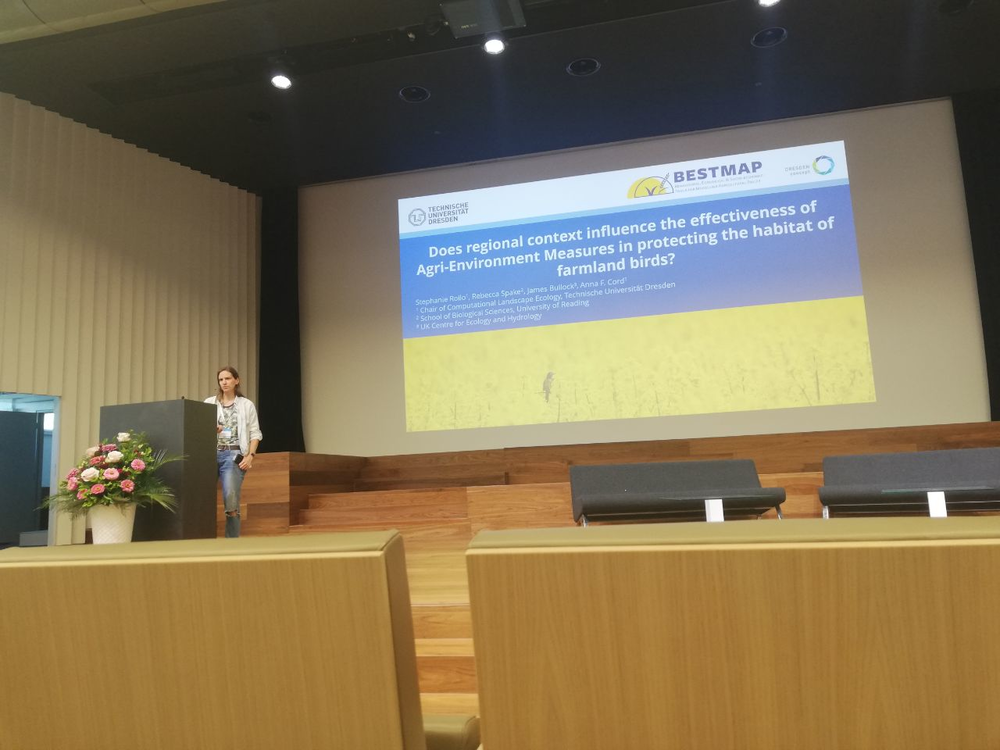 BESTMAP partner Stephanie Roilo presenting the project at the ECCB conference.
The research, which the BESTMAP partners conducted, was inspired by various other hypotheses on the topic, one of which was by Teja Tscharntke, et. al. In this study, Tscharntke and her co-authors present 8 hypotheses for landscape moderation of biodiversity patterns and processes. And particularly one of the eight hypotheses in the research was proven to be true by the BESTMAP team. During the presentation, it became clear that landscape local conservation management is most effective when a landscape is structurally simple as opposed to cleared, or drastically simplified, or complex.
Figure 1:
| structurally simple landscape | structurally complex landscape |
| --- | --- |
| | |
| | |
To test this hypothesis, the scientists have conducted research in two of the BESTMAP's case study areas, situated in Catalonia, Spain, & Mulde River Basin, Germany. They used extensive grassland management as focal AEM and the red-backed shrike as ecological indicator species.
Figure 2. An effect map of the change in habitat suitability after conversion of all grassland to AEM in the Spain region.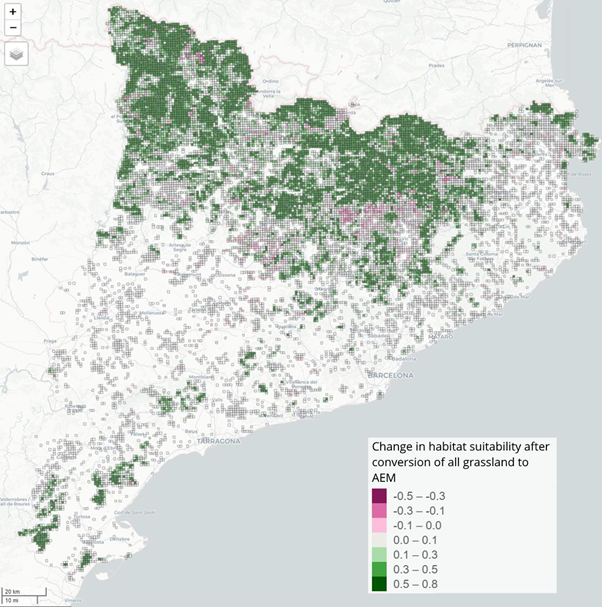 The presenters came to the conclusion that AEM widespread grassland management enhances red-backed shrike habitat suitability in both study regions. Understanding how AEM effectiveness depends on context is essential for optimising AEM spatial allocation and, consequently, maximising biodiversity gains.