Behavioural, Ecological and Socio-economic
Tools for Modelling Agricultural Policy
#BESTMAP_CaseStudies - South Moravia Region, Czech Republic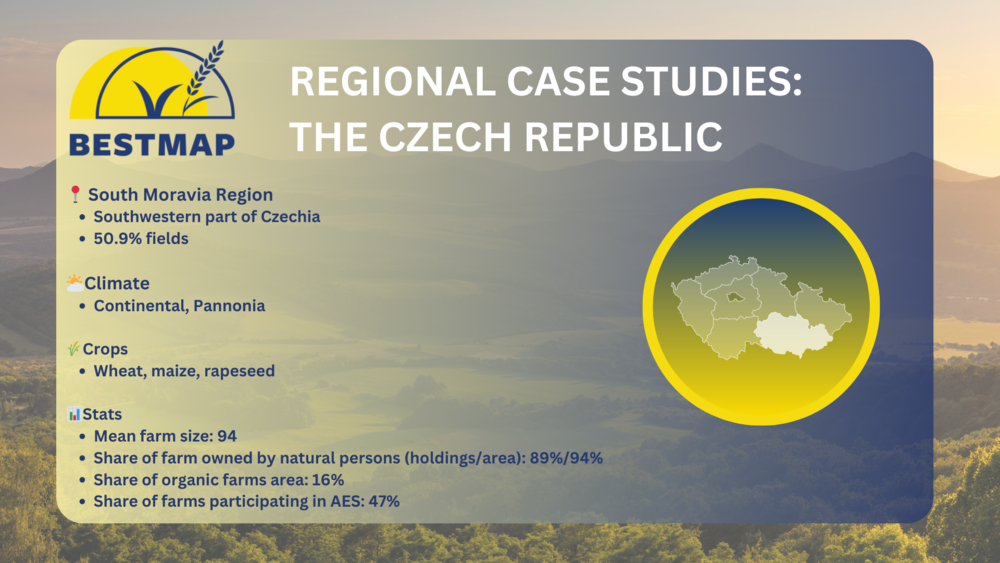 South Moravia, a prominent agricultural region in the heart of Czechia, stands out for its flourishing agricultural landscape. Its selection as a key agricultural hub is attributed to its flat terrain, graced by fertile soils and a rich mosaic of environmental conditions. This intricate blend of landscapes and farming practices has contributed to fostering the region's agricultural affluence.
Over the years, the region has undergone significant transformations, modeled by the postwar era and the subsequent post-communist one. These shifts have instigated noteworthy changes in farming practices, land-use patterns, economic dynamics, policy interventions, and property rights. Presently, South Moravia's agricultural panorama serves as a testament to its adaptive capacity.
The region offers and intriguing mixture of tradition and modernity. It comprises a patchwork of small family farms dedicated to preserving age-old practices and nurturing sustainability. These coexist seamlessly with expansive agro-businesses embracing modern methods and technology. This harmonious blend of customs and contemporary approaches signifies the resilience and dynamism of South Moravia's agricultural sector.