Behavioural, Ecological and Socio-economic
Tools for Modelling Agricultural Policy
#BESTMAP_CaseStudies - Mulde Region, Germany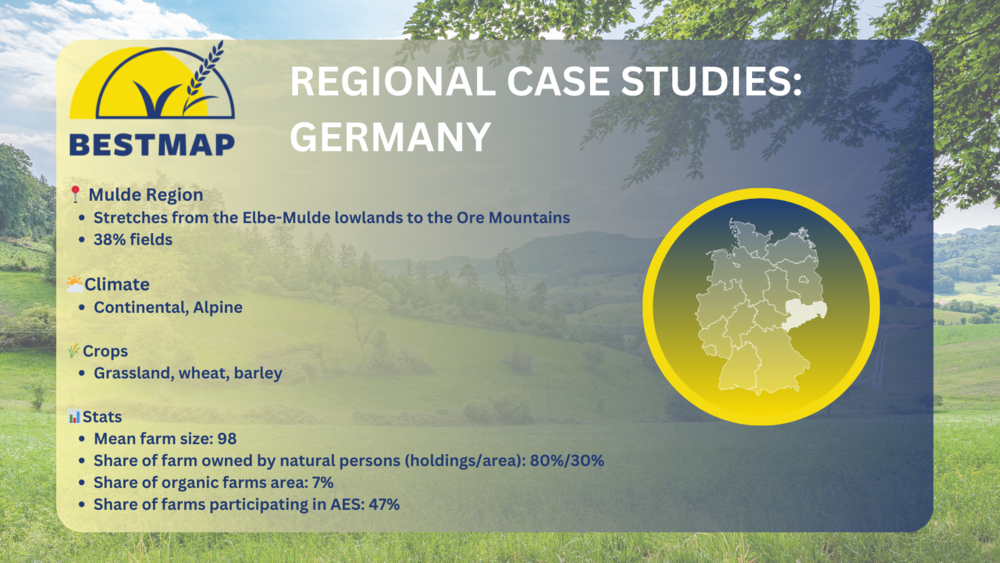 The Mulde region, nestled in eastern Germany, stands as a testament to the evolution of agriculture in response to changing demands and environmental challenges. Spanning 5,800 square kilometers, this region encompasses a diverse landscape, from the flat plains of the Pleistocene Elbe-Mulde lowlands in the north to the picturesque Ore Mountains in the south.
Agriculture in the Mulde region reflects this varied topography. Farmers have adapted their practices to suit these landscapes, resulting in a wide array of farming methods and ecosystems. Among the prominent crops are winter wheat, oilseed rape, winter barley, and maize, each playing a crucial role in the region's agricultural economy.
What distinguishes the Mulde region is its enduring commitment to sustainable farming practices. In an era marked by population growth and consumption-driven lifestyles, the demand for food production has surged. However, this intensified use of agricultural land has put considerable strain on the environment.
To address this challenge, the Mulde region, along with many others, has embraced Agri-Environmental Practices (AEPs) as part of the European Union's Common Agricultural Policy (CAP). These practices are aimed at enhancing the sustainability and multifunctionality of agricultural landscapes. They represent a proactive response to the pressing need to balance agricultural productivity with environmental conservation.