Behavioural, Ecological and Socio-economic
Tools for Modelling Agricultural Policy
#BESTMAP_CaseStudies - Catalonia Region, Spain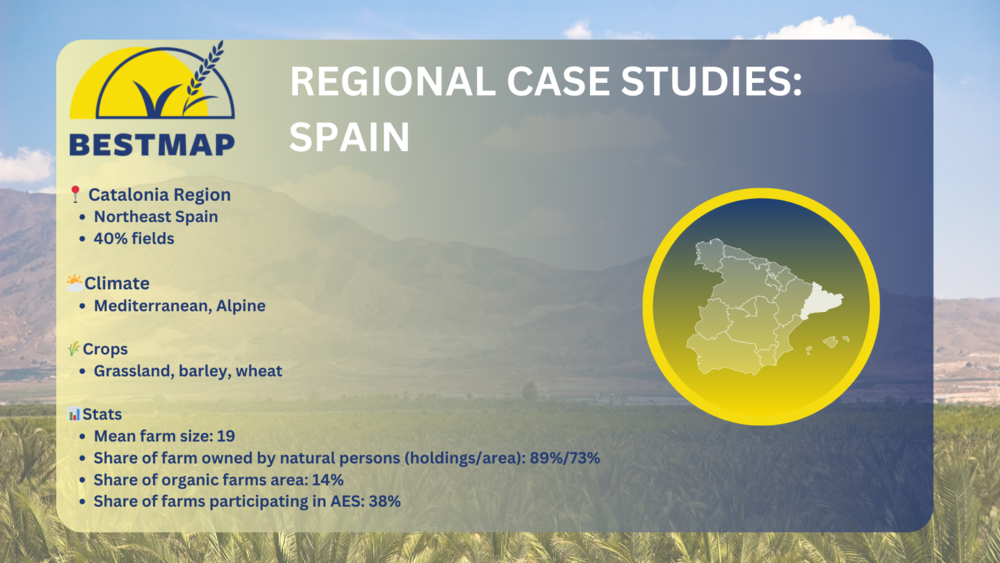 Situated in the northeastern part of Spain, Catalonia encompasses a substantial 32,000 square kilometers. This region benefits from a Mediterranean climate, but its unique topography creates diverse microclimates, ranging from alpine to coastal Mediterranean.
A significant 40% of Catalonia's vast land is devoted to agriculture, underlining its pivotal role in the regional economy and cultural heritage. The primary crops cultivated here include wheat, barley, and maize, along with essential permanent grasslands bordering the rivers. Catalonia, with its diverse climatic zones and innovative approach to agriculture, serves as a promising model for the harmonious coexistence of farming and environmental responsibility.
Collaboration among various stakeholders, including national, regional, and local authorities, environmental and climate agencies, and civil society organizations, is key to defining and implementing AEPs in Spain. These practices are designed to balance agricultural productivity with ecological sustainability.